This timeline is dedicated to Innovations in the MBA Curriculum. Throughout the year we make additions including courses offered for the first time, new approaches to pedagogy, new MBA majors, and we highlight faculty that are awarded our Teaching Commitment and Curricular Innovation Award.
Stephan Dieckmann – Deputy Vice Dean of Academic Affairs

New Course Offerings - Spring 2017
OIDD 612: Business Analytics (Flipped Format)
reacts to the revolution in how data and analytics are used for informing (better) business decisions.
Armed with massive data and easy access to vast computational resources, firms across virtually every industry are now seeking quantitative solutions to inform their actions. How should a coffee chain decide its sourcing and roasting strategy?  Read more >
OIDD 636 – Scaling Operations: Linking Strategy and Execution
Learn to make strategic scaling decisions that are grounded in operational reality.
Students will study how to build and evaluate the "operation systems" of the firm to maximize value with the focus on scaling the firm's operations.  Read more >
OIDD 642 – Analytics for Services
This course covers a range of analytical methods that are useful tools for capacity management in services, and it will provide you with insights into the economics of a range of services businesses including (i) High-level planning models that account for multiple dimensions of service capacity, (ii) Low-level models of system congestion that capture the relationship between capacity choices, quality of service and, in some cases, system revenue, (iii) Statistical estimation and forecasting models to characterize key measures of future supply and demand.  Read More >
OIDD 643 – Analytics for Revenue Management
This course introduces you to the essential concepts and techniques required to understand and implement revenue management (RM). The need for repeated, rapid and cycles of estimation and optimization has driven the development of a set of analytical tools that are particularly well suited for RM.  This course focuses on those tools.  Read more >
FNCE 887 – Shareholder Activism
Get an introduction to shareholder activism.
The lectures expose the students to the institutional and empirical facts as well as approaches followed by leading shareholder activists. The case studies are designed to provide students an experience on identifying potential opportunity for value creation through active engagement. Assignments require students to develop/practice skills on fundamental analysis.
MGMT 765 – Venture Capital and Entrepreneurial Management: Practices and Institutions of Silicon Valley
(MEETS IN SAN FRANCISCO DURING SPRING BREAK FROM 3/4/17-3/12-17)
This elective half-CU course will highlight venture capital and entrepreneurship in general and will explore selected aspects of this industry, including: industry trends and dynamics in Silicon Valley and the South of Market area (SOMA) of San Francisco; the recent emergence of alternative sources of startup financing, including incubators/accelerators and crowdfunding crowdfunding platforms, angel groups and stage-agnostic institutional investors; business and operational aspects of early stage companies in transition to mezzanine-level stages of growth; and company "exits," including both initial public offerings and merger/sale transactions.  Read more >
MKTG 851 Special Topics: Introduction to Brain Science for Business
Can brain science help business? At first blush, this might seem like a bridge too far. After all, the efficiencies of the market virtually guarantee accurate asset pricing, marketing research and focus groups can test the efficacy of advertising, effective leadership can stimulate innovation and productivity, and sophisticated analytics can leverage big data to improve organizational structure to maximize return on investment. A deeper look, however, provokes the idea that brain science has enormous potential to inform business. We now know the basic architecture of the decision process in the human brain, from identification of choice options, to the calculation of their utility, to selecting one for consumption, and learning from this experience.  Read more >
Teaching and Curricular Innovation Awards 2016
Peter Fader for WHOOPPEE
Frances and Pei-Yuan Chia Professor, Marketing
"The technological innovation that they have recently created in coordination with Wharton Computing, the Wharton Online Ordinal Peer Performance Evaluation Engine WHOOPPEE, is exceptional and has the potential to be a valuable asset for the school as a whole."
Corinne Low
Corinne Low for Microeconomics for Managers
Assistant Professor of Business Economics and Public Policy
"Professor Low is exceptional. This isn't because of her brilliance or extraordinary accomplishments; I'm lucky enough to go to a school where more of my professors are similar in that regard than not. It's because she cares about teaching in its truest sense: helping her students evolve and change the world, well beyond the province of managerial economics." 
." 
Arthur van Benthem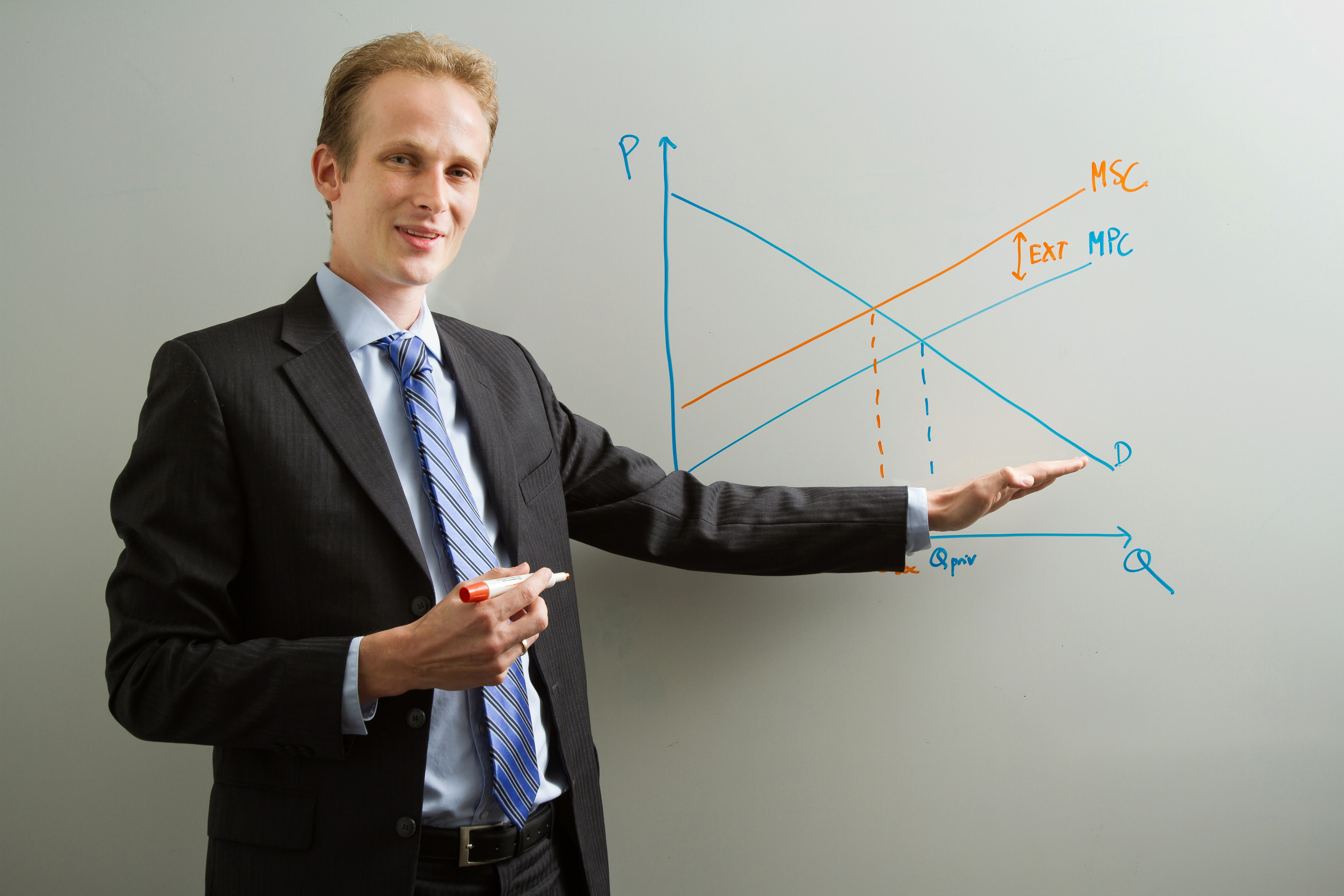 Arthur van Benthem for Energy Markets and Policy
Assistant Professor of Business Economics and Public Policy
"BEPP/OIDD 763 features innovative and extensive strategy simulations, includes truly international content, and -perhaps most importantly -provides many bridges to the "real world."
." 
Senthil Veeraraghavan

Senthil Veeraraghavan for Operations Strategy
Associate Professor, Operations, Information and Decisions
"Senthil teaches OIDD615, Operations Strategy. In this Spring semester he introduced three new technologies to enhance the student learning experience. All three technologies are designed to encourage broader and deeper student preparation and participation."
New Course Offerings - Fall 2016
Fin Tech
FNCE 885, taught by Prof. Kogan.
Big Data, Big Responsibilities: The Law and Ethics of Business Analytics
LGST 642, taught by Prof. Werbach.
Internship Term Paper
We have some exciting news for our international students. We are offering the course Internship Term Paper, WHCP 891, as a pilot. The course has been developed for international students who are about to enter their second year, and who will be doing a summer internship in the United States. WHCP 891 offers you an opportunity to reflect on some of the knowledge you acquired during your first year at Wharton applied in a business setting. You can take this course in support of your curricular practical training.
Fin Tech
FNCE 885, taught by Prof. Kogan.
Fin Tech
FNCE 885, taught by Prof. Kogan.
New MBA Major - Business Analytics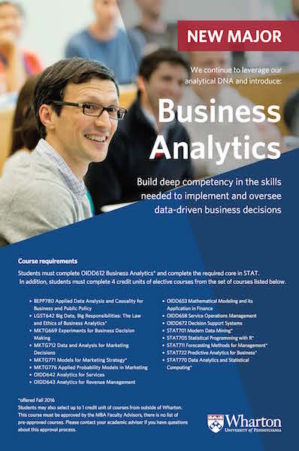 Analytical judgment is a value embodied throughout our MBA curriculum. We continue to leverage our analytical DNA and introduce a new major – Business Analytics.
The Business Analytics major is designed to build deep competency in the skills needed to implement and oversee data-driven business decisions, including (i) collecting, managing and describing datasets, (ii) forming inferences and predictions from data and (iii) making optimal and robust decisions. Business analytics makes extensive use of statistical analysis and the applications of business analytics span many functional areas.
Students choosing the Business Analytics major are ideally suited for the growing set of careers broadly defined under the header of "data science" with responsibilities for managing and analyzing data. In addition, the major provides an excellent complement to students who choose to focus on one of the functional areas of business (such as accounting, finance, marketing, operations).
The course requirements for the major are listed below.  Business Analytics has the designated CIP code 52.1301. Please contact your academic adviser if you have questions.
BEPP780 Applied Data Analysis and Causality for Business and Public Policy
LGST642 Big Data, Big Responsibilities: The Law and Ethics of Business Analytics*
MKTG669 Experiments for Business Decision Making
MKTG712 Data and Analysis for Marketing Decisions
MKTG771 Models for Marketing Strategy*
MKTG776 Applied Probability Models in Marketing
OIDD642 Analytics for Services
OIDD643 Analytics for Revenue Management
OIDD653 Mathematical Modeling and its Application in Finance
OIDD658 Service Operations Management
OIDD672 Decision Support Systems
STAT701 Modern Data Mining*
STAT705 Statistical Programming with R*
STAT711 Forecasting Methods for Management*
STAT722 Predictive Analytics for Business*
STAT770 Data Analytics and Statistical Computing*
*offered Fall 2016