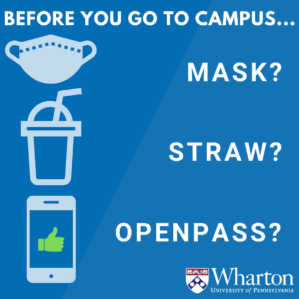 Last Update: December 15, 2021
The information stated here is a compilation of protocols and recommendations from the University and the School.  For the most up to date details on the University's response to COVID-19, see Penn's COVID-19 Response website.
RECENT UPDATES & RESOURCES
Required
Upload proof of vaccination to the Student Health Portal – Existing students  | New students
Schedule a test via the Penn system (Gateway Test) within 24 hours of arriving to campus. You may not attend in-person classes until you test negative – Schedule your test
Complete a daily symptom check via PennOpen Pass. Be prepared to show your green pass when requested
Participate in Penn Cares screening testing

Fully vaccinated –  alternating weeks starting September 20
Until fully vaccinated or  have an approved medical or religious exemption –  twice weekly starting August 9

Wear a mask while indoors in public or shared spaces (this includes GSRs)
No eating in Wharton buildings except in designated eating zones; drink only via a straw under your mask
Stay home if you are feeling unwell
For Guests (including partners) – Guest must adhere to all University and School health guidelines.  Individuals must complete PennOpen Campus and show a Green Pass upon request on campus and at University and School-sponsored events.
Recommendations
Students:
Wear your mask outdoors (as well as indoors)
Get tested at the PennCares site as needed
Practice social distancing
Eat outside and maintain social distancing when eating
Hosting Events:
Avoid gathering or hosting large indoor events
Hold events outside whenever possible
Consider using Penn OpenPass for event attendees
Wear masks to elevate your safety both indoors and outdoors when groups are large and/or food and drink are involved
Serve food responsibly – i.e., grab and go, individual plating/portioning/boxed meals, no self-serve buffets
Ensure easy access to hand hygiene facilities and supplies
Have all event staff follow all University COVID-19 protocols