Webinars
Take a glimpse of what you will experience at Wharton.
Join us live and ask questions, or feel free to view an archived webinar at your leisure.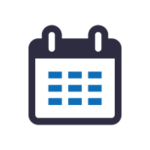 Webinars have concluded for the summer. Please view any of the archived webinars below to learn more!
Previously Recorded Webinars
Learn more about Wharton Computing as a resource to you during the MBA Program. Topics include getting your accounts, the Wharton online environment, course materials, and other computing resources.
During this webinar we will provide an overview of the MBA core requirements. After presenting a synopsis of all of the fixed and flexible core courses, we will discuss how they may be sequenced in your first year.
During this webinar we will discuss waiver requirements and procedures for eligible fixed and flexible core courses – including the difference between waiving by credential and waiving by exam. Participants will also have the opportunity to ask an Academic Advisor any waiver questions and receive a response in real time.
Wharton's Leadership programs offer a large and diverse set of opportunities for you to develop your leadership style by analyzing and building on your strengths. Join the Senior Associate Director of Wharton Leadership for a virtual overview of leadership at Wharton and adventures that await you.
At Wharton, you will experience a new vision for MBA education. You'll have access to a rigorous knowledge base and flexible options to pursue your individual educational goals. Join the Director of Academic Operations and Director of Dual Degrees to learn more about Wharton's academic program and curriculum.
Meet members of the MBA Career Management team and learn about the services they provide to all current MBA students. They will cover how to begin thinking about your search, how Wharton coaches and advises students through the recruiting process, and how Career Management will assist in connecting you with companies across industries, functions, and geographies.
Join the Partners Club Welcome Weekend co-directors for a one-hour webinar discussing life in Philly, housing, and the job search for partners of MBA Students. They will take your questions live, so be sure to register and share this email with your significant other.
Learn more about the ins and outs of being a Wharton student from our 2nd Year Student Life Fellows. They will discuss housing, life in Philadelphia, clubs, conferences and travel opportunities.
Moving to a new country and finding your way in a new city is challenging! Join three current students for a 1-hour webinar where they will discuss visas, moving to the U.S., first weeks in Philadelphia, and life as a Wharton Student.