To assist you during this exciting time, we created this Admit Checklist to help you stay organized.
Each checklist item is important to your successful transition to Wharton.
Provide Updated Information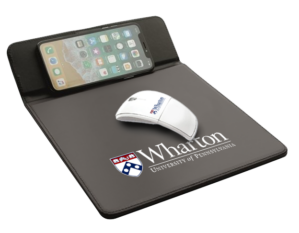 Please complete one or both of these steps to provide us with updated information:
Complete the Admit Survey
We'd like to understand what factors are most important to you as you determine the best fit for your MBA journey. Upon survey completion, you'll be entered to win a Wharton branded ergonomic wireless mouse and a wireless mousepad that also functions as a wireless charger for your smartphone.
Complete the Family Information Form
This form is for newly-admitted Wharton MBA students to share information about their partners and dependent children who would like to be involved in programming intended for families. Information submitted through this form will be shared with the MBA Program Office, Wharton Partners Club, and the Wharton Kids Club.
Enroll and Make your Deposit
Enrollment forms and a deposit of $2,000 are due in the MBA Admissions office at 5:00PM ET on the following dates:
Round 1: Friday, February 2, 2024
Round 2: Thursday, May 2, 2024
Round 3: Wednesday, June 5, 2024
Log in to your Wharton online application to view, complete, and submit your enrollment form.
If we do not hear from you by the appropriate deadline, we must assume that you have declined our offer.
Complete your Verification
Log into your Wharton Online Application to view information regarding our verification process, which is conducted for Wharton by ReVera. Your checklist includes instructions on how to start the verification process.

In early January you will be sent an email from verifications@reveraservices.com that will include a link to start your verification.  You will be prompted to enter your date of birth and the email address used in your application. Students will receive a confirmation email from ReVera immediately following successful payment of the $115.00 fee and submission of the authorization form. Deadlines for submitting authorizations and fees to ReVera are 5:00 pm ET on the following days:
Round 1: Friday, February 2, 2024
Round 2: Thursday, May 2, 2024
Round 3: Wednesday, June 5, 2024
The verification process is routine for all admitted students.
Submit Official Transcripts and Test Scores
At this time, we highly recommend sending your transcripts via electronic PDF.  Please send directly to fordc@wharton.upenn.edu.
If you prefer to submit paper transcripts please use the regular postal service method. If your transcripts were sent via paper, please note that there may be a delay in obtaining your documents when delivered.
Wharton's GMAT code: G56-97-73
Wharton's TOEFL code: 2926-02
Wharton's GRE code: 6802-5199
PTE: Report your scores to the Wharton MBA Program
Please send your transcripts to the attention of:
Charicha Ford
111 Vance Hall
3733 Spruce Street
Philadelphia, PA 19104
Obtain Visa (for international students only)
International students who are non-immigrants will need a student visa (J-1 or F-1) to enter the U.S. and attend the University of Pennsylvania, unless they have another non-immigrant status (such as A, G, or H-4 non-immigrant status) that permits study.  For more detailed information on the entire visa process, including the decision to apply to F-1 or J-1 status, visit the International Student and Scholar Services (ISSS) New Student page.
After you enroll, visit your online application to access:
Instructions about the visa application process (PDF)
 Financial Aid Cost Summary which includes cost of attendance for your first year. (PDF)

This document is required for the I-20/DS-2019 application if you will be applying for financial aid while at Wharton.

ISSS online portal (iPenn) to apply for your I-20 or DS-2019 Certificate of Eligibility.

Use your Penn ID number to log in.
After ISSS has created your documents, Wharton MBA Admissions will mail your I-20 or DS-2019 to you. Once you have an I-20 or DS-2019, you should apply for the appropriate visa at a US Embassy or Consulate:
Set up your PennKey
A PennKey allows you to access various University resources including a PennCard, access to Penn's library system, and access to Wharton online tools.
A few days after you've paid your enrollment deposit, you will receive an email from the University of Pennsylvania's ISC department with subject line "Important Information on setting up your PennKey username and password." which will contain a code and instructions that allow you to set up your PennKey. The code you received via email is only valid for 60 days.
You will be asked to select a username from available choices. Please choose carefully because this will also be your Wharton email address, and once you select your username it cannot be changed. If you don't like the available choices, please contact Wharton Student Computing before selecting.
You will be required to enroll your Pennkey account in 2-step verification. Wharton recommends that you use the Duo Mobile App (download for Apple or Android).
Select the "PennKey Self-Service Password Reset (SSPR)" option. If you do not choose this option and you forget your PennKey password, a new PennKey setup code will have to be mailed to you which may cause significant delays.
If you do not have a SSN, you will receive an additional email prior to the PennKey set up email with subject line "Important Information about your nine-digit identifier (ID)" that includes your 9-digit ID assigned to you by Penn.
Please allow 2-4 hours after creating your PennKey before attempting to log into PennKey-protected apps and services.
Questions? Contact Charicha Ford in the MBA Admissions Office at fordc@wharton.upenn.edu. You may also visit the University of Pennsylvania PennKey website.
Activate your Wharton Account & Wharton Email Address
To create your Wharton account you must already set up your PennKey.
Please note: You may need to wait up to 24 hours after creating your PennKey before Wharton's system will be able to create your Wharton account.
Visit the Wharton Account Creator website and enter your PennKey. Your Wharton username and e-mail address will match your PennKey. Important announcements will be sent to your Wharton e-mail account regarding Pre-Term and class registration.
Visit the Get Whartonized guide to become familiar with Wharton's technology services and learn what devices and tools you should bring with you when you arrive.