We want to celebrate your accomplishment and encourage you to take advantage of in-person and virtual events just for admitted students!  We invite you to attend as many events as you like.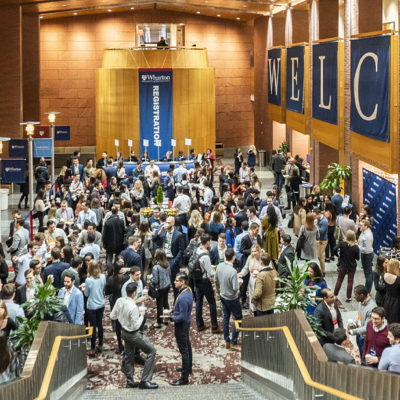 WG25 Welcome to Wharton
April 14-15, 2023 in Philadelphia, PA
You're one step closer to joining the Wharton community! Join us in Philadelphia to engage with current students and staff through in-depth dialogue to help you get the best impression of life at Wharton. In addition, you will be able to meet other admitted students so you can start building relationships with your future classmates. This event provides a wide array of sessions to understand what two years at Wharton will provide.
Arriving Early?
If you are local to the Philadelphia area or will be arriving early for Welcome to Wharton, we invite you to join current MBA students at PUB. PUB is a Wharton tradition that brings the entire MBA community together every Thursday afternoon to connect and start the weekend. There is an open bar with beer & wine and PUB-fare food.
Thursday, April 13 2023
5:30 PM – 9:00 PM
Upcoming Virtual Welcome Events
Semester in San Francisco
Monday April 3, 2023
12:00 PM – 1:00 PM EDT
Join the Directors of our Semester in San Francisco Program to learn more about this unique opportunity, and the academic and career-related support provided to our SSF cohort.
Meet and Greet: Industry Clubs
Monday April 3, 2023
6:00 PM – 7:30 PM EDT
Join student leaders from several MBA Industry Clubs to learn more about the role clubs play in recruitment, interview prep, and industry exploration.
International Student & Scholar Services (ISSS) Overview
Tuesday April 4, 2023
11:00 AM – 12:00 PM EDT
Join Donna Steinfeldt, Senior Assistant Director of International Student and Scholar Services for a Q&A for international admitted students.
Living in Philadelphia – Student Perspectives
Tuesday April 4, 2023
12:00 PM – 1:00 PM EDT
Join our Student Life Fellows to learn about life in the City of Brotherly Love! They will discuss navigating the city, making friends, and creating your social life in Philadelphia.
Meet International Students
Wednesday April 5, 2023
8:00 AM – 9:00 AM EDT
Join a panel of current international students to learn about their experience attending school in the U.S. and the steps they took before Pre-Term, followed by Q&A.
Living in Philadelphia - Your Housing Search
Thursday April 6, 2023
11:00 AM – 12:00 PM EDT
Join VeryApt to learn about the local housing scene, tips for moving to a new city and trying to find the ideal living situation.
JD/MBA Virtual Happy Hour
Thursday, April 13, 2023
6:00 PM – 7:00 PM EDT
Join current JD/MBA students to learn more about the program and get all your questions answered. This event is for JD/MBA admits only.
Penn's Off-Campus Housing Fair
Thursday April 13, 2023
9:00 AM – 5:00 PM EDT
We know taking time to visit local landlords and Penn departments might not be possible. Join Penn Off-Campus Services for a virtual housing fair to live chat with both Penn departments and local landlords.
Meet & Greet with Lauder Institute Director
Monday April 17, 2023
11:00 AM – 12:00 PM EDT
Join The Lauder Institute's Director, Martine Haas, for an info session on the Lauder program and our summer programming plans for the Class of 2025. This event is for Lauder admits only. Please use the Lauder Admit Portal to register.
Meet Venture Lab
Recorded on March 30, 2023
Meet MBA Alumni
Recorded on March 30, 2023
Meet your Academic Advisors
Recorded on March 28, 2023
Meet McNulty Leadership Program
Recorded on March 27, 2023
Welcome from MBA Admissions
Recorded on March 24, 2023
Recent Alumni Panel
Recorded on January 11, 2023
International Student Panel
Recorded on January 10, 2023
Financial Planning for your MBA
Recorded on January 9, 2023
Living in Philadelphia
Recorded on January 9, 2023
Master Class with Professor Corrine Low
Recorded on January 5, 2023
International Student Services (ISSS) Overview
Recorded on December 21, 2022
MBA Career Management Overview
Recorded on December 19, 2022
Semester in San Francisco Overview
Recorded on April 18, 2022
View a Student Apartment with Alexander Robinson
Recorded on April 12, 2022
View a Student Apartment with Dempsey Simonis
Recorded on April 12, 2022