We want to celebrate your accomplishment and encourage you to take advantage of in-person and virtual events just for admitted students!  We invite you to attend as many events as you like.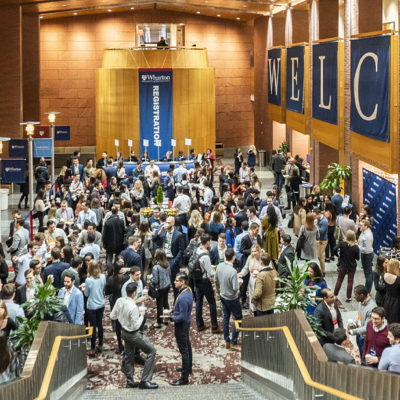 WG25 Welcome to Wharton
January 27-28, 2023 in Philadelphia, PA
Join us the evening of Friday, January 27th for small-group dinners with fellow admitted students and current Wharton MBA Students.
On Saturday the fun on campus begins! We have a full day of programming and networking planned, that culminates with a celebratory reception.
Meet & Greet with Director of Admissions, Blair Mannix
Friday, December 16, 2022
10:00 AM – 11:00 AM EST

Academics Overview
Thursday, January 12, 2023
11:00 AM – 12:00 PM EST
Meet & Greet: Affinity Clubs
Thursday, January 19, 2023
6:00 PM – 7:30 PM EST

MBA Career Management Overview
Monday, December 19, 2022
1:00 PM – 2:00 PM EST
Venture Lab Overview
Friday, January 13, 2023
11:00 AM – 12:00 PM EST
Alumni Panel

Wednesday, January 11, 2023
12:00 PM – 1:00 PM EST
Meet & Greet: Industry Clubs
Wednesday, January 18, 2023
6:00 PM – 7:30 PM EST