Philadelphia is an ideal location for business school — small-scale and historic, with all the resources of a major East Coast city. One of the country's liveliest, most diverse cities, it also puts you right in the heart of all the opportunities of the East Coast — a train ride away from New York City, Washington, D.C., and Boston.
Philly is big enough to have lots to do, yet small enough to get to know. Penn's campus is in University City, a neighborhood with its own stores, restaurants, and movie theaters. Less than a mile away is Rittenhouse Square, a fashionable area with dozens of places to eat, shop, and hang out.  Rittenhouse is very popular among Wharton Students with over 80% of the current class choosing to live there.
Because the vast majority of Wharton students come from outside of the city, you will be part of a close-knit community in which it's easy to make friends quickly.
Wharton MBA Housing Guide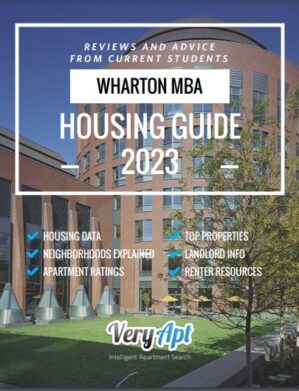 The Wharton MBA official Housing Guide (www.VeryApt.com) will assist you in finding a suitable apartment in Philadelphia. Started by two recent Wharton MBA grads, VeryApt offers trusted apartment reviews based upon price range and amenities.
Housing in Philadelphia
You'll find varied and affordable housing options accessible to Wharton, from campus living to high-rise apartments to single-family homes. To learn more about Philadelphia's neighborhoods, check out VisitPhilly's Neighborhood Guide. Below are a few housing options that are popular with Wharton students.
Center City (Rittenhouse Square)
Most Wharton students live near Rittenhouse Square. Rittenhouse Square is located in Center City and is home to some of the city's best restaurants, shopping, and nightlife. The neighborhood has luxury high-rises with beautiful views of the the park and brownstone homes. The commute to campus is a 25-minute walk, or 10 to 15 minutes by public transportation or bike.
The median rent among our students who live in Rittenhouse Square is $1,600 for a studio, $1,900 for a 1 bedroom, and $2,600 for a 2 bedroom. Popular apartment buildings in this area include AQ Rittenhouse, 2040 Market, 1919 Market, The Dorchester, 2400 Chestnut, 2116 Chestnut, The Republic, Rittenhouse Claridge, Wanamaker House, 1700 Chestnut, The Beacon, Locust on the Park, Aria, The Carlyle, The Sterling.
Other popular neighborhoods within Center City are Fitler Square, Logan Square and Midtown Village.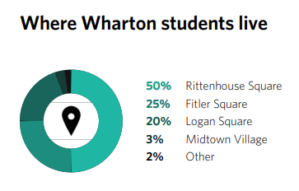 University City
Thousands of Penn students, faculty, and staff live in neighborhoods throughout University City, an area that offers rich ethnic, cultural, and economic diversity. Convenient to both the campus and Center City, the neighborhood has great restaurants, large apartments, and striking Victorian architecture.
Rentals in University City can be found using your favorite apartment search websites, or on Penn's Off-Campus Housing Website (requires PennKey).
On-Campus Graduate Housing