Did you miss or want to revisit a session from Pre-Term?
If you will be absent during any day of Pre-Term or MGMT 6100, please complete the Pre-Term Absence Form.  If you had a planned absence and completed the Excused Absence form already, you do not need to resubmit.
If you are looking for COVID-19 information including access to testing, please click here.

SET UP YOUR ACCOUNTS
Create your PennKey and Wharton account to access the Onboarding Checklist, and other Wharton and Penn resources.
MBA ONBOARDING CHECKLIST
Use this checklist to ensure that you're completing all of the tasks and deadlines as you start your MBA career!
SUMMER ONBOARDING
Begin your Wharton journey by learning about the MBA program and key resources.  Join live sessions, view videos, and keep up-to-date on communications.
Get Ready for the Classroom
PRE-ARRIVAL ASSESSMENTS
Review information on the three academic pre-arrival assessments required of matriculating students.
WAIVERS & PLACEMENT EXAMS
Review the Waiver Guide and complete the Waiver Module. Opt to register for waiver and placement exams as well as accompanying prep courses
CURRICULUM & COURSES
Discover the many options within the program and develop your academic plan.

MEET THE TEAMS
Advisors and staff will be your support team throughout your Wharton experience. You will meet your Advising Support Network during Pre-Term.
INTERNATIONAL RESOURCES
The Wharton community is ready to help you transition to making Philadelphia your home for the next two years.
MYWHARTON (AVAILABLE IN AUGUST)
Stay up-to-date on school happenings with program announcements, events and integrated calendar.

Begin with Pre-Term and MGMT 6100
PRE-TERM
Pre-Term begins on August 9, 2022. During Pre-Term you'll continue to engage with other members of the Class of 2023. Here you'll lay the foundations for relationships that will last long past graduation.
MGMT 6100 – FOUNDATIONS OF TEAMWORK AND LEADERSHIP
MGMT 6100 is required for all MBA students.  Classes will begin on August 18, 2022. Review the Management 6100 website for additional information.
DOWNLOAD THE GENERAL PRE-TERM SCHEDULE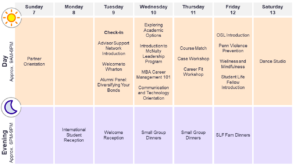 FAQS
Access the most Frequently Asked Questions (FAQs) we receive from admitted students to the Wharton MBA Program